Located on the stunning beach of Na Jomtien just a few kilometers from the international playground of Pattaya, this unique beachfront resort city is the perfect destination for families and couples. Set in 40 acres of tropical splendour it offers spacious accommodation with stunning views over a flawless sandy beach and spectacular azure ocean.
The perfect spot set along the way
Hotel to Bangkok 155 km. 2.5 hrs.
Hotel to Bangkok International Airport 180 km. 2.5 hrs.
Hotel to Pattaya Centre 10 min
Shopping area, Entertainment 8 km.
Hotel to U-Taphao International Airport 37 km. 30 min
Hotel Map
Directions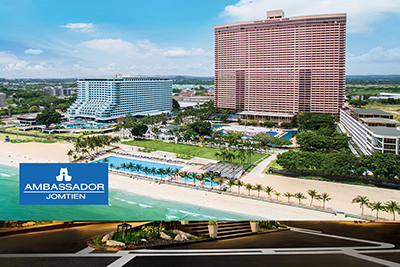 PATTAYA OFFICE
21/10 Sukhumvit Rd., Na Jomtien, Sattathip, Chonburi 20250, Thailand.
Tel: +66(38) 255 501-40
Fax: +66(38) 255 731
RESERVATIONS
Tel : +66(0)3825 - 5501-40 Ext. 1115 - 1118
Fax : +66(0)3822 - 5987-9
Email :
rsvn@ambassadorcityjomtien.com